About the photographer
Previously capturing images in her Chicago-area portrait studio for nearly a decade, Lisa is thrilled to offer relaxed outdoor and at-home pet portrait sessions to the pet-loving community here.

About your Pet Photos session
We'll take some time to chat about your goals, select a few portrait locations, and allow your pets to become comfortable with me. Capturing images of your pets in their familiar home environment allows them to express their unique personalities and behaviors, even if that means they're just playing with a ball in the backyard, sleeping on their favorite pillow, or relaxing in a sunbeam streaming through the window. Sessions are scheduled during daylight hours and usually last 45 minutes. Payment in full is due at the time of your session.

After your session
An image gallery will be posted online for your review and selections. Or, if you prefer, I'll carefully review the images and use my trained eye to select the portraits that capture your pets at their best.

Ordering prints, cards, and photo gifts
If you'd like to order any additional items, it's completely up to you. Please visit the shopping page to review options and pricing for print enlargements, framed prints, photo notecards, fine art canvas prints and a variety of other ways to display your favorite photos. Simply ask if there's something you'd like that isn't listed on the shopping page. Your completed order will be delivered to your home or work address.
Scheduling your session
Please contact me using the link below to discuss the next available session dates and times.




photographer and founder
Pet Photos

Contact Lisa to request a Pet Photos session



Read customer testimonials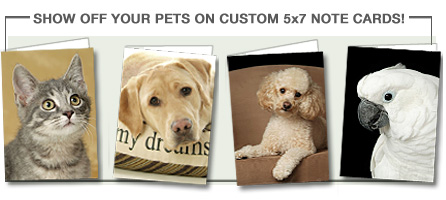 Custom photo cards are a customer favorite.
Sending handwritten cards just became even more fun! Add your pet's portrait to these gorgeous glossy folded photo greeting cards and bring even more smiles to all of the people in your life. All cards in the set features the same image and include white mailing envelopes.
$75 for each set of 25 cards ~ Free home delivery